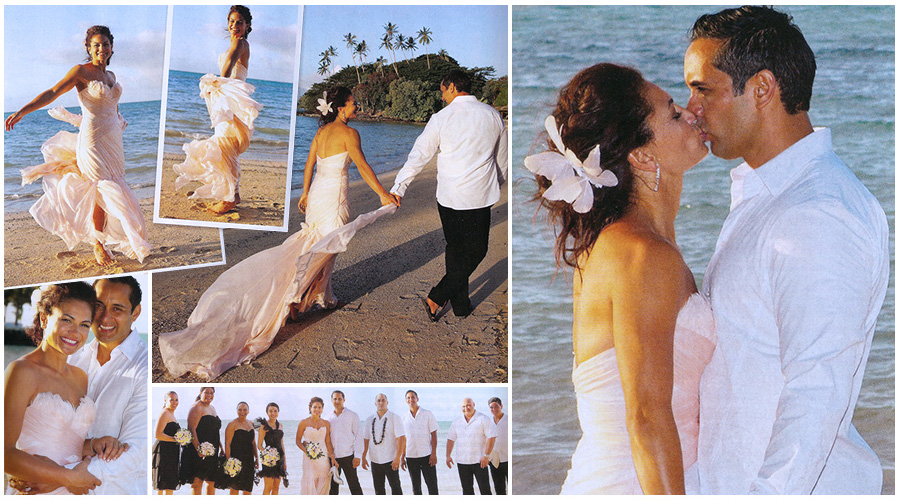 Butterflies, crystals and tears - Temepara's beautiful sunset wedding
There's an infectious feeling of joy in the air that is as intoxicating as the warm, frangipani-scented breeze. The sun melts softly into the horizon, casting a perfect pink glow across the gently swaying palm trees as a beaming Temepara George makes her way down the pier at Aggie Grey's Lagoon Beach Resort on the arm of her beloved 14-year-old son Erin-Wayne.
As the strains of Luther Vandross' classic love song "So Amazing" fade away, the former Silver Fern catches the eye of her husband-to-be Wayne Bailey. Her ear-to-ear grin says it all. This is a special moment in time for Temepara – a chance to celebrate a fresh start. The dynamic centre hung up her netball bib and retired from the sport she loves last month, and the 36-year-old mum-of-two's life is now filled with exciting possibilities, including a new role as a netball commentator and presenter for Sky TV.
That positivity is reflected in the blush-pink Jane Yeh gown the radiant bride has chosen. The colour was selected to suit Temepara's bubbly personality, which long ago earned her nickname "Bubby". "I wanted a splash of colour to reflect my personality", she says, smiling. "Even Wayne commented later on how much he loved it, and how different it was, which made me really happy". The back of the dress features her favourite motif, a butterfly, and two also adorn her hair.